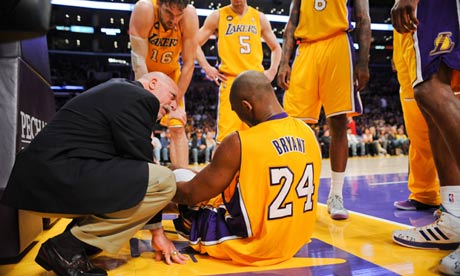 An Open Letter To Kobe Bryant.
By TIM DAVID HARVEY
Dear Kobe.
This is for you. Thank you. Now I would love to claim to be your biggest fan but then I would be discrediting the love you receive from all sorts of devoted fans all over the globe. I'm an NBA fan who bleeds purple and gold. One who often wonders which M.J. was the greatest of all time when it came to sports like those who swear by the king of pop (R.I.P.). Still, your closer than you think. The story of my love for this game and your game is a special one. Here it goes...
You grew up in Europe. You know how it is! I sit writing this in an internet cafe in my hometown in England, thinking of how you grew up in Italy dribbling with your hands while everyone else was doing it with their feet. I know you love soccer, but like your first love I love basketball and when it comes to sport I havent looked back since. While everyone else in my country was watching the Premier League my heavy, 2 in the morning eyelids where focussed on basketball and again you know how it is. Television coverage, before cable and League Passes (which not everyone including myself can afford) was seldom. Sure it was Michael Jordan who got me into basketball, him and his Chicago Bulls team, but I never really saw them play until I went to the video libary. He was a legend, you where the reality.
Standing their with that 'fro, that smile and those sunglasses, next to that big fella. Complete with a new stadium and uniform set that shined brighter than the Californian sun in Los Angeles, but not your chances. I saw purple and gold ticker tape fall as you leapt into Shaquille O'Neal's arms on my television set a million miles away. The kid from the small seaside town saw a team that ruled the Pacific do it again three times over before, he had to get a closer look. That's when I made the trip, halfway through my sebatcle year in Toronto, Canada (shout out to the T-Dot, 81 right?!) in 2006. I had a few weeks left before I returned home for Christmas, I was close, but not that close. Still, it didn't matter I made that flight to LAX. What I thought would be just in time to catch the Lakers/Clippers what we here call a derby at STAPLES...but then lost luggae happened and I missed THE game. Still, I got to meet former player Walt McCarty at the airport and strike up a conversation which six years later led to an interview. America and life is crazy.
Still, when I got my things back and went to the heart of the city, the first thing I did with the new day was visit downtown Los Angeles. There after an hour long coach ride I saw the STAPLES Centre for the first time in it's metal and glass flesh and it was like seeing one of America's greatest landmarks for me. In my mind the Hollywood sign couldnt compare. Nothing could. I made my way to the ticket booth and asked what games where playing this week (I already knew), the attendee told me about the 5 games over the week (I had planned it perfectly). He asked me which ones I wanted. I looked at all my saved up cash..."all of them"!
Then I got to see all the dunks, fade-away's, steals and smiles for real. I couldn't take my eyes off the court...and I'm a big Jack Nicholson fan. It was December. Remember you went down with an injury in the week. I thought 'what luck', but then against the odds you came back to beat the San Antonio Spurs, tongue out with the dunk. Just when I saved the best seats in the house for last. What a trip! What a week! You came back. The I did four years later (it felt like home)...and I know you will, 6 or 9 months later. Is this the end? Nah! I mean I know you, I've grown up with you. Father time never. Face time more like. Time to get those iPhone's and Instagram ready. I just feel sorry for the bear.
You see I had to put it all down in writing, like I've done time and time about you. Almost to the point where it's become a little strange (but hey, I'm a sportswriter). 'The Kobe Series' followed 'The Jordan Series' as I tried to hash-tag the range of articles I've wrote about you to spread the love, just like you joining Twitter. You can always 'Count On Kobe'. I can't thank you enough, writing about you on your birthday (the article 'Thirtysomething') got me my first gig with SLAM Magazine's online site. How can I thank you for that? Your passion, fuelled mine and turned it into work and success. Then came Dime Magazine's 'Laker Nation' blog and who knows what next. From speaking to the likes of Scoop Jackson (he has his own letter), James Worthy on Christmas, your boys Robert Horry, Rick Fox, Earl Clark, Kareem Rush, A.C. Green and even the likes of Spike Lee, Tyrese and Vin Diesel. This life is crazy, but it all started with you. The love of my life even see's it, and she prefers her sports with four wheels. It's all love.
"Everything negative - pressure, challenges - is all an opportunity for me to rise," remember?! Don't hate this I'm not writing this article like this is it. This is no goodbye letter. Six to nine months is a long time and I may have wooried that you may never come back but I know the Kareem rocking chair has to wait. Besides you've just overtaken Wilt when no one thought you could. Who's next? Even the King LeBron knows the throne may be his, but it's not his league yet. You retire when you say you do. As those so called better players get wheelchaired off the court with lesser injurys (ouch!), you rip your achilles apart (it's amost a fitting injury for the player closest to 'God'), make two free-throws and walk off like you where just taking a Gatorade break. Maybe you are.
You've come back from things more flagrant. Won MVP's with a broken nose, become a phantom menace with the mask, showed ESPN this former number 8 is better than 7th place. There's still venom in this Mamba. The Vino is still getting better with age. You shouldn't worry...everyone else should. You're good, matter of fact you're great. That's what makes you legendary. I've got you like Dwight, Pau, Steve and Metta have. I'll see you again, maybe in L.A., and I'll write again and it won't be a history piece. It'll be a piece where you make history. 'The Kobe Series' will still play and you'll still come back with avengance. Besides it's just one more ring you want right? This is no book end. This is the start of the next chapter of your career. The story continues. Now how do you want to write it?
Yours Sincerely,
Tim David Harvey