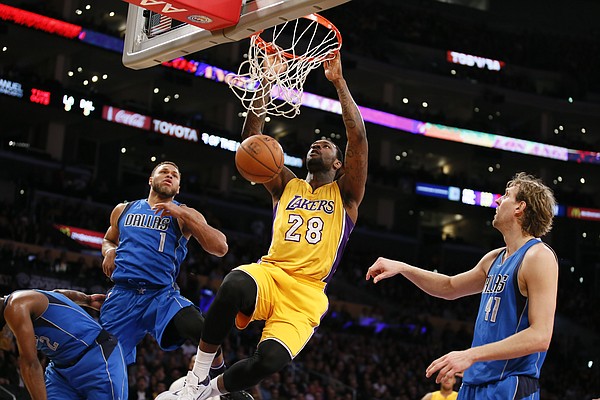 Back 2 Black.
By TIM DAVID HARVEY.
(Our new series 'One To Court' offers profiles of the young, unsung players to watch out for)
Here comes the boom!
To be young and gifted like Tarik Black. Well, not even the bleed purple and live gold, die-hard fans of the Lakers quite expected this. No matter how much faith they had in new coach and former player Luke Walton. Right now after destroying Brooklyn's nets the new Showtime Lakers are 4 and 1 at home and 7 and 5 for the year. Hello .500. We'll see you soon we hope playoffs. These new, young Lakers looking like another band of California Warriors in this small ball revolution are running the death-lineup so much it seems like all they do in practice is commit to endless suicide drills like Coach Carter. When it comes to the Walton's you may just have a purple and gold Fantastic Four that everyone was looking for in Golden State's Kevin Durant, Steph Curry, Draymond Green and Klay Thompson (who believe them-not what you hear-is going nowhere). Because right now pick your purple poison. D'Angelo Russell, Julius Randle, Jordan Clarkson and Larry Nance Jr. They are all playing like superstars of the future. And we're still waiting on Brandon Ingram to show us all who he really is.
Leave the Vino in the cellar. Kobe deserves to put his feet up. And what a retirement he must be having watching all of this.
But one of the youngest and deepest squads in the association don't end with their future. Their highest scoring in the league bench-mob is really pine fresh like that tree hanging from your cars rear-view mirror. What more do you expect when you have two 'Sixth Men Of The Year' candidates (Lou Williams and the swag of Nick Young), two internationally renowned Point Guards (Jose Calderon and Marcelo Huertas) and two former superstars (Luol Deng and Laker legend Metta World Peace) who can all still play but must wait for their day. But with all these guys (not to mention Thomas Robinson) meaning even promising youth Anthony Brown and Chinese icon Yi Jialian didn't even make the final roster cut, you just know the X's and O's of Luke Walton has a wealth of options, inside and out.
But don't fade on Black.
Because part of the Lakers boomin system is 24 year old center Tarik Black who has been in and around the purple paint, dressed in gold for years now. Manning the middle with lets not forget rookie Zubac and all dunking champion Mozzy. Sure at 6'9 he may be a little undersized, but did you tell that to Ben Wallace? Affectionately nicknamed 'Boom, Boom' Black eyes the rebound and brings the POW to the power back dunk. He's more than the below the basket dirty work guy that the Lakers have missed with the departures over the years of Jordan Hill and Rony Turiaf. He is also more than hockey's equivalent of the kings of L.A. basketball's enforcer that has big star Julius Randle's back in the key too. Although you just have to love the zoomed in, ready to go so much that he loves it expression on his face when Kentucky grads DeMarcus Cousins of the Sacramento Kings and Randle squared up to each other a couple of games back at the end of regulation at STAPLES. Because Black can get his and score and rebound at will without a single play dry erased for him too. Even if it is a combination of muscled 'bounds, box outs and put backs. Have you seen him run the lane for a dunk? Or even just take off from a standing position to clean up the sometimes raw rookies and stuttering sophomores growing pains mess? Case in point last game against former teammate Jeremy Lin's (who got his Coach Kobe playbook on injured courtside, sitting this one out, but still very much staying in the game like EA's return) Brooklyn Nets he put one back off the rim so Darryl Dawkins, 'Chocolate Thunder', Black rain hard we just had to write an article about it and him.
And as everyone in downtown L.A.'s STAPLE from Lil 'Wayne to the nosebleeds got out their seats we aren't the only ones paying attention.
So now you're all checking for the Lakers again like everyone from ESPN to the Clippers should have been with Lob City taken back, just make sure you paint it Black. Because right under the basket when it comes to the Lakers purple heart Black and gold goes together like Hollywood nights that will never fade.