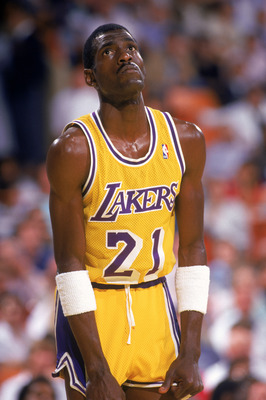 A Coop-A-Loop To The Hall
.
This September former Seattle Supersonic, Milwaukee Buck and Los Angeles Laker legend Gary Payton headed an awesome Hall Of Fame class. Now the talk is already on who will fill the corridors of Naismith next year. Right now in Laker nation the debate is whether clutch king and team life saver Robert Horry deserves a place (for the record he does...you better check a newspaper or something). Still, my own candidate to lead the way to Springfield next year like those clouds at the beginning of 'The Simpsons' is a guy I wrote a feature on last week. You can even hear the theme tune choir calling his name..."Miiichael" and Bart writing the line on the blackboard "I shall not forget to induct such a legend like Mike again' again and again. Now do we have room for a couch gag? Sure when I write about a subject at times I get a little feature happy. Just ask Mitch Richmond (this years Hall finalist who needs his own place) or musician/movie star Tyrese (who need his own triple-threat place in an entertainment hall of fame...maybe a star on the Hollywood Walk of Fame). Still there is reason behind my article rhyme here.
How is Michael Cooper not in the Hall Of Fame right now? How is his jersey not even raised to the Lakers rafters yet? I mean his great 'Showtime' teammate Jaamal Wilkes was recently honoured with both Basketball history meets immortality statuses so why not Mike? Let's like this more than a Twitter trend, let's sign a petition for the ballot like we wanted a new Batman (and let's give the great Ben Affleck a chance). Ok, sure this guys jersey wouldn't be the first Lakers one you'd buy...even when it comes to 80's Lakers, but just ask Magic Johnson or even Boston Celtic Larry Bird about how much number 21 meant to both the purple and gold and the NBA. That's why he deserves both the rafters and the hall. So why is he being shown ignorance and gallows? Even his coaching career is worthy like big game James. Look at that picture, look at tht face. How you going to leave him out?
The best defender-and I quote-Larry Bird ever faced, needs the NBA to know his place. Does Bruce Bowen deserve to be in the Hall? Does Metta World Peace? Ok, let me ask you this does Ron Artest even? Take M.W.P's best time during the Ron, Ron years, add it with the Kobe stopper Bowen's and you still don't trump Cooper in this trading card game. Just check his huge air time block against that Bullet shot. Oh, and Coop's epic leaps lead to those Coop-A-Loop and slam dunk contest throw downs. The guy could clutch more than a couple of three too. You thought him just a great defender? This Cooper's Basketball talents where limitless like Bradley on his A team. That's how good he looked. There where more silver linings in Pat Riley's playbook than the Magic of Earvin or the hook of Kareem. Take away the fact that he is one of the NBA's greatest defenders ever, you still have one of the Lakers better offensive players of the last three decades. THAT'S how good Cooper is. Wake up from this hangover!
I even went as far to say he deserves his own statue, but before you go carving out the bronze let's set this guys concrete classic career in record book stone. The skinny but muscular player worked so hard once they get his jersey ready for it's banner coronation it'll probably still be soaking in sweat and as for the Hall it's time Magic threw one more Coop-a-loop and made that induction speech. His Laker legacy belongs with NBA's Naismith for his names sake. The numbers don't lie-even if some speak in off-ball half truths-and the championships are certified. His 21 points one finals year is one of the only reasons the Lakers have 20 plus championships. One of Larry O'Brien's belongs to 21, the jersey that belongs upstairs and the name Cooper on the back that belongs down the hall and to the left. Let's make it right. TIM DAVID HARVEY.