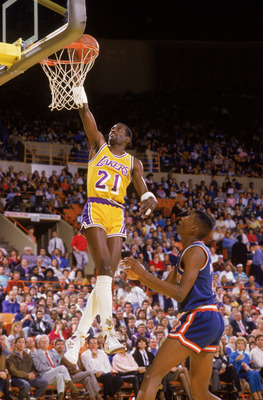 Here's The Coop.
By TIM DAVID HARVEY
#lakerlegendseries
It's Showtime all over again, like Los Angeles, 1984...and we aren't talking about the Olympics, although this athlete was five rings worthy and won that many championships too. Recently this Summer, Los Angeles Laker legend Michael Cooper saw Michael Jordan and Julius Erving's old hops and raised them another dunk, slamming it home at an event just shy of 60 years old. Almost as old as the Lakers themselves, Cooper proved he still had some offence with that old jam. Way before Ron Artest or Metta World Peace guarded Kobe's house, Coop, the all-round nice-guy and eighties legend like Lionel Richie was running with the Magic on a Commodore classic team, flying away at a zoom speed. This storied player who just about spanned three decades still stands with his lithe, but mighty muscular wingspan as the greatest defender of Los Angeles Lakers (Minneapolis as well) history...and even the NBA too.
Born to play for the Lakers from Los Angeles California, you should expect his number 21 to be raised to the rafters with Shaq, Magic, Kareem, Worthy and the boys sooner than later. Like his Minnesota number-sake Kevin Garnett, Michael was a lean, mean passion play Basketball machine and that's the skinny. Think of Bruce Bowen with more of a legacy. He could have gone play to play with Kobe in his day, at the present moment he's probably teaching him one or two himself. With high-flying and high profile, perimeter prolific players like James Worthy, A.C. Green and Byron Scott and of course Magic and Kareem as teammates, Michael Cooper was like a superstar role player. With out his big plays and intangibles on the other end of the floor the Lakers would have been clutching at straws instead of championships. Remember for every Shaq and Kobe, there's a Rick Fox and Robert Horry.
At a relatively under sized 6, 5 and 170 pounds of pure muscle this guard and forward, switched it up and took it bigger than the characteristics and stats. Now the other teams who passed up on the 60th selection of the third round of the '78 draft out of Pasadena and New Mexico know not to judge a book by its cover...just wait for the autobiography. The Lakers loyalty was returned with a 12 year hard worked NBA service, before one final season of experience in Kobe's territory of Italy for Virtus Roma. Los Angeles strongest son also returned to L.A. Basketball to successfully coach Lisa Leslie, Candace Park and the ignited Sparks franchise of the WNBA for almost a decade, two championships and a Coach of the year honour after time manning and mining the Denver Nuggets. Just another rhyme to the reason that the NBA Defensive Player of the Year and 5 time All-Defensive first team man who amassed career totals of 7,729 points, 3,666 assists and 1,033 steals had more attributes than his many accolades.
Michael Cooper is championship certified and his legendary legacy see's him as the only person to win championships as both a player and a coach in the NBA, WNBA and NBA development leagues. Impressed? This is the only guy that could have thrown off legendary Boston Celtic Larry Bird off his signature, pure three-point shot...and you thought Magic was quite the rival. Bird called this guy the best defender that he's ever faced. Cooper's smothering, white on rice, cheap suit, but no cheap shot all-round defence could reduce Larry Legend to Larry David and if that doesn't Curb Your Enthusiasm ask anyone else in the golden 80's era of the league. You don't just have to go to French Lick to hear the war stories or victim accounts for evidence. Opposing players where left looking like hicks to this specialist. The only ones left smiling not in Laker uniforms where Jim Murray, Chick Hearn and of course Pat Riley. Jim would have wrote that you needed to call the police because Mike could have even picked the pockets of the fans in the stands like a Harlem Globetrotter. Chick would have said that Coop would slap the jello in the refridgerator to get it jiggling. Pat wouldn't even have seen anything as slick even looking in the mirror at his hair. You couldn't write, say or coach it better.
This guy was so focussed on locking down and preventing his man from getting through he may as well have run border control. He averaged an across the board stat surf of 16.3 points, 5.7 rebounds and 4.2 for the New Mexico Lobos as they won the Western Athletic Conference trophy. The rail-thin Coop then blazed a trail for the NBA like he was playing for Portland and not the Los Angeles Lakers. Across the tracks he won chips in 1980, 1982, 1985, 1987 and 1988 as well as making eight all NBA defensive teams. He may not have always had the ball in his hand but the man who could (and still obviously can) dunk and hit the open shot was given the honoured, most important role of guarding the opposing teams best player. The small forward/shooting guard would even man the point if Earvin's Magic called for it. All work and no complaints this perfect employee just rolled up his trademark high knee (hey those eighties short shorts leave little to the imagination) socks and went to work.
That's how you average 8.9 points, 4.2 assists, 3.2 rebounds, 1.2 steals, and 0.6 blocks per game and have anyone in the forum cheering "Cooooop" like Luke Walton fabulously. Still an underrated figure of Basketball by Hollywood and Association standards even some hardwood purists forget one of the NBA and Lakers best. Then again this is a franchise, league and day and age that would be criminal enough to leave Gail Goodrich off considered lists. Still Coop's play slams all of that. Dominique Wilkins, Michael Jordan no problem, Michael would give his everything against them all. Walking the Basketball dribbled walk tall, with Iron Man durability that made this Avengers small frame feel more like the look of an incredible Hulk to Celtic green and any angered Forum foe. The 'Coop-A-Loop' alley-oop fan favourite play and dunk contest worthy finish that played again this Summer was just the offensive icing on a cake that was full of stodgy, sticky defence that bloated the opponents best players and playbook.
This X and O guy definitely owned more than just the definitive defensive side of the floor. Caught out there in the stats, Coop's all-time Lakers top 10 in three-point field goals (428), games played (873), minutes (23,635), steals (1033), blocked shots (523), assists (3,666), defensive rebounds (2,028), offensive rebounds (741) and free throw percentage (.833). Now that's just all-round purple and gold domination for the stats sheets. This guy was a more complete player than people oversaw. He wasn't just about D in his defence, how has he not taken more offence? How is he not one of the Lakers best ever? How does he not have a statue yet...they wouldn't even have to use much stone for those arms and legs. I know Septembers almost at it's end but the Hall Of Fame needs to wake up too. Magic needs to throw another lob for the Coop-A-Loop, this guy belongs in the classic corridor. The trophies he helped earn are already in the cabinet and they're only collecting dust. It's time to clean the glass like he did...along with everything else.
From his savage steals to his terrific threes and his dynamic dunks to his brutal blocks simply put Michael Cooper stopped everyone but his Lakers from winning. After some coaching tenure behind Jerry West, Magic Johnson and Del Harris he proved he was an even bigger legend in this game by leading the women of the National Basketball Association to the promised land of hoops. He even gave the Albuquerque Thunderbirds some go towards a NBDL championship. Who knows what could happen in the next half century? One things for certain is that purple and gold will always run through those tense and taught veins. The moustache, muscle and pulse of Showtime was no side show. This behind the scenes and spotlight hero was the best friend to Magic Johnson's leading man ready to take a bullet and bring the Hollywood movie world to the theatre of the Forum. His Lakers where the biggest box-office championship draw making this guy number one with a dunk...even at 57. Now put him in the top 50. This guy was all-star, all-game, 100%. What more could you ask for?