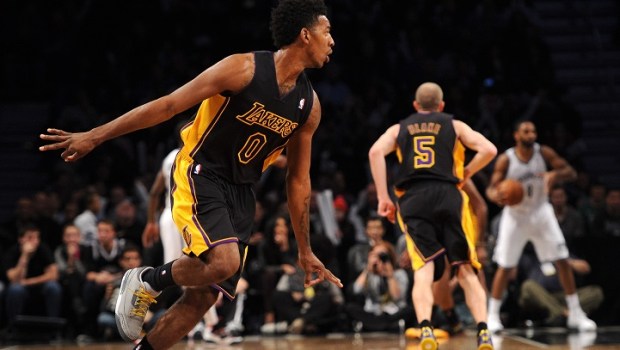 Hollywood Hits New York
.
Snoop Dogg once rapped, "deez Hollywood nights, they drive me crazy" and as the Lakers debuted their new cult classic, eagerly anticipated and Christmas present shipped awaited black jerseys this week things really where nuts for the lions favorite team. As the knights of Hollywood made their 'all black everything' debut off-Broadway in Brooklyn, New York, there where more fiasco's in the borough of N.Y. than a Lupe record. In a week where a picture of Kobe Bryant's signed 'Laker for life' contract has made the top trending social media rounds, nothing looked better than the Lakers in Wiz Khalifa black and yellow on the new Brooklyn parquet, even if Jay-Z wasn't there to see, or Kobe wasn't activated available to be ready to wear and lead his new team and it's uniform. Even without the point of Steve Nash, these young guards helped keep the Lakers purple and gold burning bright on the Winters road against a team that was left so embarrassed in their own home that they may just have to pack their bags for the Meadowlands of New Jersey again. These former Jersey boys thought they'd hit a bigger Knick like stage in New York, but even with the Mecca of Madison Square Garden's premier team losing seven sins straight, its looking mighty rotten in the big apple right now.
Take a bite out of this however, the new Lakers core that everyone has wrote off, minus the backcourt of Nash and Bryant is still hot. Led by the strong posting up of underrated and still all-star Pau Gasol, the three-point spark-plug redemption of Steve Blake and former Laker/Net/back to Laker again Jordan Farmar these guys are the pips. The cast, in alphabetical order, Henry, Harris, Hill, Johnson, Kaman, Kelly, Meeks, Sacre, Williams and Young may not be household surnames but in Hollywood their making their titles and games known in a city that engraves stars in the streets. A mix of young raw talent, looked-over vets and experienced players with some prime-time left are still swinging and hitting like a 'moneyball' baseball like unit and last night the basketball looked so fresh and exciting they could have played it with a red and white ball. In the NBA team that Dr. J built-that recently returned to the city-this full-court operation was just what the Julius Erving ordered. Even those reading his new, incredible autobiography couldn't keep their eyes on anything but the game. From another dunk show from Wesley Johnson, who is rivaling his teammate Xavier Henry and the rest of the league in 'best dunk of the night' or week categories, he flushed over a sleeping Paul Pierce who looked like he was still in Boston and stole the show and broke away with the hammer for another perfect play that extended what he does on the lay-up line every single night in Hollywood. The Clippers may have most of the Lakers former players (just check the roster, I cant do this again) but this may be the new lob city. For the statistical purists, the Lakers made seven of their first nine threes on this voyage of star trek's and a one-time Net hits three, threes in a row, but while wearing a new jersey that reads Lakers. Jordan 'former Net' Farmar had a boulevard of a game, stealing and swaggering a three home to break the net and back of his former team.
A team that he was traded for in a multi-team deal that led the Lakers to the dreadlocks of another Jordan, this one called Hill who is one of this teams and leagues biggest x-factors and rising energetic talents. Just check the box-score or highlights, even the headband can't wold this wild-card back. Still if you wanted to see more growth and maturity just look at Young. From zero on his jersey to hero, the kid scored a season high 26 and crossed over between shooting threes and dunking his way to a video game worthy night. Sure speaking of these numbers the Lakers may have blew a 27 point league but these youngsters plugged the gap against a team that features Hall Of Famers like Kevin Garnett and Paul Pierce, with great Joe Johnson, even with Jason Terry, Brook Lopez, Andrei Kirlienko and leader Deron Williams in a Timberlake/Jay-Z suit and tie sideline injured post. Sitting next to another point great, in head coach Jason Kidd. In other words against this struggling but surviving Lakers team that's now 7-7, B.K. should have netted this, especially with the clutch of wheelchair to championship winning Paul Pierce. Still, you know what they say Jason Kidd, If you can't beat them, tell your player to run into you so you can spill your drink as a distraction, still lose and get fined fiiiifty thoousand BIG ones. Damn! As Kidd tried to distract Jodie Meeks clutch free throws by asking one of his players to run into him so he could spill his drink on-court, all that was wrote was a cheque for a flame-grilled, whopping fine of $50,000 as the ruse didn't work or impress. Some tabs just 'aint worth it and as Blake and Henry invaded the Nets huddle by jokingly acting like they where part of the team looking at the drawn up plays these Nets where humiliated in their own house like that uncle coming round with the embarrassing stories this thanksgiving
Who knew the one-time best point guard in the Association was such a good actor this Hollywood evening? Shouting 'hit me' like he was the Joker in Gotham City. Jason Kidd really made the turkey this holiday, even if it was Wes Johnson that provided most of the stuffing. The NBA has some brilliant bloopers for it's next caddy-shack collection. Still, even with the gag-reel it was a historical scripted Hollywood night for the record. Gasol's 21 point made him the second-leading European scorer (he's a lot closer to Dirk than you think) in all-time NBA history and the Lakers became the leagues most productive bench. Are Chris Webber and the critics still talking? I can't hear. All I hear is good things about these men in Johnny Cash black who are neuralysing any previous thoughts. Bouncing back from Washington treating them like a conveyor bolt lay-up line in D.C, the Lakers did the same with a capital exclamation in the nation and worlds most famous city. Even the Brooklyn crowd was chanting 'Lets go Lakers' like Kobe was playing down the borough. This was this young teams M.S.G. moment and piece of clarity. Even without the doberman these young pups had bite against all that bark. In the first of a selected few Hollywood nights this year these new black Lakers fashioned a classic, entertaining night that will make more columns if repeated again. Forget Black Friday, this was the craziest day in the worlds busiest town. There's no use crying over spilt-drink or lost Kobe when the Lakers make a new magic out of some showtime basketball. 'Hollywood Nights' is the new showtime served up cooked and charred, burning the Nets in black like an over-done meal. On the week of Chick's birthday he saw the game leave the refrigerator and hit the table smoking and steaming. Put your drink down and put a fork in that one, because nights like this? Only in Hollywood.
TIM DAVID HARVEY.