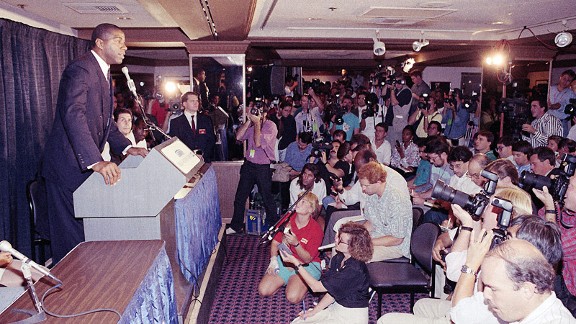 Salute To Magic.
By TIM DAVID HARVEY

"I'm going to go on. I'm going to beat this and I'm going to have fun"-Magic Johnson, November 7th, 1991 Press Conference.
Stop press, there's an announcement to be made. This is a league in a sports world that is built off press conferences and the entertainment that comes with all this media hype from everyone's television to the local newspaper before a ball has even been bounced. From Mike's retirements to LeBron's decision when it comes to the biggest stars on the planets the baited breath words coming out of these cultural icons mouths is as almost ironically as thrilling as the last couple of seconds in a game we love them for playing. All ears, mics, eyes and lenses are on them for another flashbulb moment. Still no matter how big a blockbuster deal, or what great hangs his sneakers up for what will be the last time, no press conference will ever resonate in all its emotion and influence than the announcement of Magic Johnson in 1991 that "because of the virus I have attained, I will have to retire from the Lakers". The virus; shockingly HIV, the retirement; caused grown mean from teammates to press and everyone in that room and around the world watching to shed tears that Magic wouldn't, for the strength of himself, us and more importantly other HIV sufferers. You see, this is because like his Magic pass first play Earvin Johnson knew this wasn't just about him. This moment in history from it's anniversary to it's best '30 For 30' ESPN documentary is more than a network exclusive like CNN Live, it's the most magic play Earvin Johnson ever did make and pass. Just like he was always there for his teammates, Magic held court for his fellow sufferers.
Basketball fans, we all know the player, Magic Johnson. We all saw those behind-the-back, over-the-head, through-the-leg passes as he looked one way. We all saw those championships as he looked another. We all saw Larry Bird and his Boston Celtics as he and they couldn't ignore the purple and gold glare of Showtime. We all saw the Larry/Magic, Lakers/Celtics revolution of the 80's that led to the golden era of the National Basketball Association in the 1990's. Still, after the fall of '91, everyone in the world knew the man behind the Magic; Earvin Johnson. Retiring immediately from the game that he ultimately dominated without even looking or touching the net, Johnson vowed solemnly but strongly to "battle this deadly disease". A disease that thankfully his wife Cookie and his then unborn child did not contract. With 'Cap, Kareem Abdul-Jabbar not long taking the rocking chair retirement tour around the league his goggles and sky-hook where replaced by the shaggy hair and raw beard of a young, next great big-man and foreign imports in the league Vlade Divac. On and off Laker lifer A.C. Green was still their for the new decade as was the 'Showtime' of veteran Byron Scott and ageing superstar James Worthy. Still, with new big, inside, outside talent like Elden Campbell and Sam Perkins it was a new era for the Lakers and struggles would happen without their inspirational and motivational leader and all the tricks of this trade, but after this day in November on the grander scale of things none of this mattered.
Magic needed to be there for the people. Basketball and otherwise. He needed to be there for not only a still, ignorantly misunderstood young African-American people, but also everyone in not only the United States but the world. A world that was still reeling from the tragedy of Boston Celtic superstar to be Len Bias and his cocaine overdose and just like their misunderstanding of that drug at the time, in this new decade they still needed to be educated about HIV. About how it wasn't AIDS for Magic. About how it didn't just have to be a "death sentence". About how it wasn't just a disease for homosexual people or those engaging in sexual activity (although those engaging in a regular and varied sexual lifestyle needed to learn how to practice it safely). People needed to learn the hard way, about just how easy it was to catch, but the hardest to live with. About how we needed to understand and help others who suffer without scorn or jokes, but understanding and sympathy that benefited but not belittled. Things that Magic helped teach just like he schooled everyone on court, so today we know and think about it differently. So we don't have to see ignorant and hateful times that would make a little girl suffering cry on national T.V. Or a cruel time that would force a child with HIV to leave his school and his education, while other parents still not satisfied with just him leaving would yell after him "go to hell", like some humiliatingly ignorant people, when there was no way that boy was "going to kill their child". Magic helped stop all that...simply that he helped. He answered the call, even when President Bush (sound familiar) didn't.
Those single nights of after-game, after parties at the 'Fabulous' Forum with all the single ladies-where all the stars (hoops or not) would flock to Inglewood of all places-where gone, days of the past. Still Magic's celebrity friends of the highest order like Chris Rock or Arsenio Hall never left his side, like his teammates, closest friends and family. As for the rest of L.A. and what world that has its admiring gaze on the stars of Hollywood, after they dried their eyes they took a long look at themselves and a care-free life held-over from the sixties that should be settled down for the real joys of a safer, family orientated one. The age of Aquarius needed to be done. Some made jokes about Magic, but no one was smiling. No one would leave that inspiring smile of Magic, even if it did leave him sometimes at that press conference. Sure, strongly there was no tears, but there was obviously not many smiles either in the face of this adversity. All these years later, that truly says a lot, even though he did let out a big grin at times when he reaffirmed his favorite word and life's motto; "fun". Remember this too; "all those years". Where does all the time go? Jay-Z amazingly recorded his 'P.S.A.' 10 unbelievable years ago for his "retirement" 'Black Album', but over two decades ago, Magic made his retirement announcement which truly became a service to the public...and he's still here. Still with Cookie by his side. Still fighting this deadly disease with a smile on his face, making it-like his game-look easy, so much that people think the wrong thing. Appearances can be deceiving, but from Kanye West lyrics to other ignorant remarks Magic Johnson does not have a "cure for AIDS". Even if he isn't as thin or weak as people projected...or gone as some cruelly predicted. Just like the hardest work it took for him to make the game look easy, Magic is working and battling the impossible fight of keeping up with this disease. He.Is.Still.Here. Jogging around downtown and saying hello to everyone and not just for the ESPN cameras. He's still here fighting. Still smiling. Still having fun.
Still helping everyone else. You may see the business enterprises this man has made for his post-career cut to short, from taking Starbucks to the hood, to hopefully one day bringing an NFL team to L.A. alongside owning the Lakers and Dodgers. Still as much time and effort and dollars and sense he puts into his enterprises he does in to his foundations, supporting them with the money he makes and using his famous face and infectious smile to raise awareness and support for sufferers of HIV and AIDS. When some abuse their celebrity for the wrong reasons, writing huge cheques for foundations that everybody can see but nobody could possibly, literally cash, while making it known that their album comes out on Monday, Earvin does it the right, unselfish way, just like he played the game. Telling people that HIV is no joke and that "safe sex is the way to go". Showing in his calm but frank press conference that he identified and understood others living his life, but just like him they needed to open their eyes and see what we all misunderstand. "We sometimes think only gay people can get it, that it's not going to happen to me", Magic helped wake up the notions that tragedy or the fickle hands of fate don't think in prejudice. No matter how young, old, safe or unsafe you are. Black or white, boy or girl, poor or rich, anything can happen and you must live for the moment and think of the best but prepare for the worst as well as the future. And here he was saying "that it can happen to anyone, even me, Magic Johnson".
In 1991, at only 32 years of age, people thought that was it. From the close friends Larry, Michael, Isiah and Pat called first to a Forum of teammates and everyone who heard the news via every channel after the press conference, but it wasn't it. Not only for his life, but basketball. Those who thought he'd last years, even months or only weeks where wrong in that press conference, Magic did indeed come out "swinging" and "bugging" everyone as he joked. Proving he was Basketballs Ali in not only incredibly, different, physical domination of the game, but worldwide inspiration and influence against ignorance off it, albeit in different ways. Amazingly a nation inspired and no longer ignorant truly moved Magic's heart as he did there's, voting him into the following years 1992 NBA All-Star game. A return to the Lakers and a trip to Barcelona with the best team ever assembled for Olympic gold all seemed like a "dream" but it was woken up by this one game and return. A return that some like Karl Malone and even teammates Green and Scott where unsure of, but one that others reaffirmed with camaraderie and confidence not only to themselves and the world, but Magic too. Like legendary Laker trainer Gary Vitti attending to the Magic man medically with no gloves, Dennis Rodman made his own statement at All-Star. He threw Earv' down to the floor hard for the worst foul in a fun game that should be treated like an exhibition, yet Magic smiled. With everyone else afraid to touch him in the game at first, Dennis got all personal and treated him like the competitor and man he was. Now that's a show of solidarity like a pregame Isiah kiss. Something that changed the game itself and led to one-on-ones with everyone who answered Magic's becoming finger. Even Jordan's fade-away, fell-short against the Magic man, but it was all warm smiles from the fiery competitor as it didn't go down. He still had it. As number 32 with 29, 9 and 5, iced the game with a three-pointer, all players East or West rushed on the floor before the end of regulation to congratulate him. "Game called on the account of hugs", like Magic said in his autobiography.
Just like Magic embraced HIV suffers the NBA and the world did him. Especially a legion of players in a league that still to only these days of recent times had trouble adjusting with players coming out the closet and locker-room. Still, just like the bravery of Magic, the bravery of John Amaechi, Jason Collins and others should not be ignored insultingly. Just like an NBA team should pick up the talented free-agent and solid big-man Collins now in this new season, more should feel safe to open up. Open up like Magic did about something completely different but still a sexually related taboo subject and one that oftentimes leads to more pointed fingers than extended hands. Magic proved in that mid-February game in 1992 that it was all love. That people who thought only of the risk of contamination can see that the only thing that caught on was respect and understanding. The world was woken up to the misunderstood and pushed aside issue of HIV and AIDS from one man in one sport that wasn't even on a big national, yet alone global scale until he redefined it. Like he did it and the world once again with one revolutionary televised press conference and the redemption it made. Hollywood and the Academy Awards paid attention too a year later from movies to music, as all-American heroes and leading men of respective genres Tom Hanks and Denzel Washington and Bruce Springsteen and Neil Young helped lay-down the script and soundtrack for the classic film 'Philadelphia'. The city of brotherly love helped tie a pink-ribbon around the HIV and AIDS suffering community, but one man from Lansing, Michigan wearing purple and gold helped embrace the whole issue personally and join the helping hands of everyone around the world who looked at this issue with inspiration and not ignorance. Something that even inspired the inward Kareem to reveal his cancer suffering in order to also help others. With triumph over tragedy Earvin Johnson could have just retired without a word or just an excuse, but he changed the world with his humble and honest press conference. Now that's truly Magic.
"
This is not like my life is over because it's not...I'm going to live on. Everything is still the same
."